How does Coaching with Coach Katy Caroan work?
I use a variety of techniques, so you should expect observation, provocation, brainstorming, skills development, role playing, mindfulness, and insight breakthroughs on your journey to results.
Together we explore challenges, remove blocks and create motivating actions. You share your findings; you expand your arena of bold, brave and beautiful actions while making conscious decisions on what is most important to you when pursuing your goals.
Your objectives are defined and redefine throughout your coaching journey, creating a customized coaching program specific to your needs.
As my client, you are responsible for:
Defining your objectives at the start of the coaching program
Allocating the time required in-between coaching sessions for practice and reflection
Adhering to the agreed upon time schedule
Understanding that the value of your coaching is what you put into it
As your coach, I am responsible for:
Maintaining a safe environment during the entire coaching program
Creating a challenging and fun climate while coaching
Assuring your attention and level of commitment is in line with what is needed to achieve the desired results
Providing thoughts and guidance that align with your initially defined objectives
Because of the virtual nature of our relationship, coaching is provided in a variety of formats, depending on the coaching package that you select. The formats offered are:
Online Asynchronous Coaching via JigsawBox & LifeVille
Telephone Coaching via Skype, ooVo0, GoToMeeting or GoToWebinar
One-on-One and Group Coaching Settings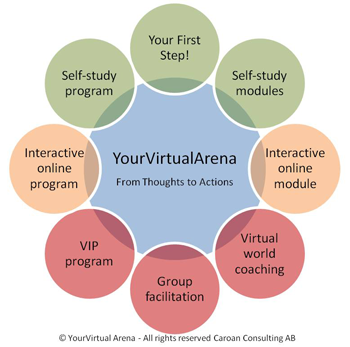 Utilizing online tools and platforms in conjunction with one-on-one or group coaching has successfully created an online coaching platform that is evolutionary.
The benefits of using my one-of-a-kind online coaching platform, YourVirtualArena are insurmountable, including:
You decide when you spend time on coaching
You get full documentation of your progress and results throughout your customized program
You keep the documentation online for reference purposes after the culmination of your coaching program
You have the ability to provide feedback at any time allowing for me to further develop and customize my program for your benefit.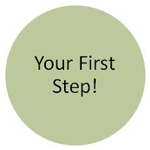 Begin your coaching process, by signing up for your first module! This is your opportunity to complete an introductory self-study session at no cost during a period of 14 days. The module provided, From Thoughts to Actions, is intended as an early initiator of thoughts, and you will be able to develop these thoughts with the materials and questions provided.
The material will remain available to you after those 14 days, as with all the customized coaching programs provided throughout this site. At the end of the module, From Thoughts to Actions, you will be asked to participate in a quick survey to provide feedback. Upon completion of the From Thoughts to Actions module, you and I can discuss the customized programs and services that are available to you based on your first step findings.
Your investment is purely the time you choose to put into it, why not give it a drive and dive into results oriented coaching with a one-of-a-kind online coaching platform.