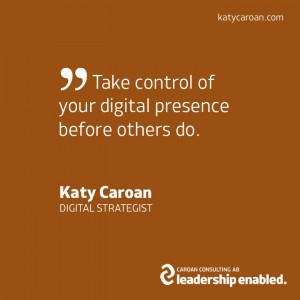 How to get everyone talking about YOU!
Ok so you spent all this time and quite possibly money on branding yourself, building your website and making your profiles. You have a good solid foundation set up now comes the hard part. How do you get people talking about you? Searching your name on the top search engines? Looking you up on social media? And best of all; following you!
Here are a few helpful tools that will get you noticed in the cyber world, promote your new brand, and bring in traffic and potential revenue.
With more and more people using the internet for day to day tasks it is now important to have a cyber-presence and after spending so much time crafting and honing that presence make sure you use the right tools to get those people talking about you.
Katy Caroan
As an internationally recognized partner, Katy Caroan inspires you to pursue business opportunities in combining technology with leading edge strategies - The Professional Reputaton, based upon the responses from 13 colleagues and customers in June, 2013. Analyzed and presented by Per Frykman AB.