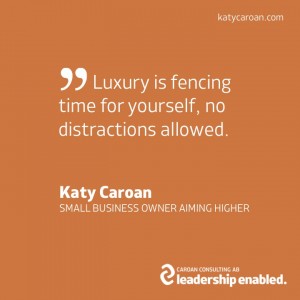 Sometimes, assumed trivial things may have a huge impact on how we perceive joy and ease in our daily lives. A common theme among many of my clients is the lack of own time beyond the activities conditioned by expectations on us by others.
The modern life is full of hectic schedules and busy days. We often find ourselves playing more than one role as the day goes by; that of parent, spouse, child, friend, and worker. With so many roles it is easy to find our days and weeks filled with endless amounts of tasks; leaving us with no or little time to do the things we enjoy.
When was the last time you read something just because you enjoyed doing so? When was the last time you did anything just because you wanted to? Are you having trouble remembering a time when you did something just for you?
Perhaps one of the most important facts about having time for yourself is that it can help to keep your head on an even keel. Lack of quality 'you' time can lead to feelings of frustration, tiredness, disappointment and general life dissatisfaction. Why should you put yourself through those feelings when just a couple of hours each week, or even a few minutes each day, can be so beneficial?
One of the biggest problems many people have with making time for them is because they are always giving to others and feel that it is selfish to do something just for them. Rest assured that it is not a selfish act. By giving time to cultivate yourself and your mental wellbeing you are giving yourself the ability to give more to others with no fears of disappointment, resentment, and frustration.
 What do you do for your 'me' time? Share in the comments below!