How advancing leaders prepare for conference attendance in the digital age
When looking back at the conferences you attended over the last few years, how many of them resulted in long lasting business relationships, led to exciting business opportunities or initiated a totally new direction in your business? While some of us have the intention of obtaining these results prior to an event, I find that many fail to turn the initial excitement and ambition into something that could last. We struggle to leverage the investment made in time and money.
There is nothing wrong in attending a conference for inspiration and entertainment in the moment only. However, I believe there is a way to set yourself up for longer lasting results through your preparations as an attendee.
Imagine if you could initiate new connections before you enter the conference. It would allow you to better prioritize the sessions and meetings and increase the possibility of spontaneous meet-ups within your area of interest.
Here is how I prepare and build connections before attending an event:
Get Connected
Visit the conference website to learn who will present as speakers and other stakeholders.
Subscribe to the organizer's Twitter list of all speakers. If no such list exists, create your own and inspire your Twitter followers to listen into the buzz.
Monitor the conference Twitter handle and relevant hashtags to learn as much as possible about the speakers and topics in advance.
Read the speakers' blog articles or books that interest you before the event.
Respond quickly to anyone following back or reaching out on other social media platforms such as LinkedIn.
If the conference offers a livestream option, make sure to sign up and join the community or forum well in advance to see who else will join.
Stay Connected
Follow the event-related conversation on Twitter, blogs and forums daily.
Post occasional content with a clear indication of your purpose for reaching out.
Retweet, share and use the content on your favorite social media platforms to inspire your surroundings. The closer it is to the event, the higher the intensity.
Engage, Learn & Target
Look a second time at the conference agenda. Can you learn in a different way? Make sure to make educated choices about parallel conference tracks.
Do some research on your favourite conference topics: The more you know in advance, the easier you can prioritize your time at the conference.
Are some speakers or attendees of special interest to you? Make sure to connect and let them know that you are looking forward to engaging prior to the event! Why not intrigue them with a question or an idea, and check if there is an interest to meet during the event?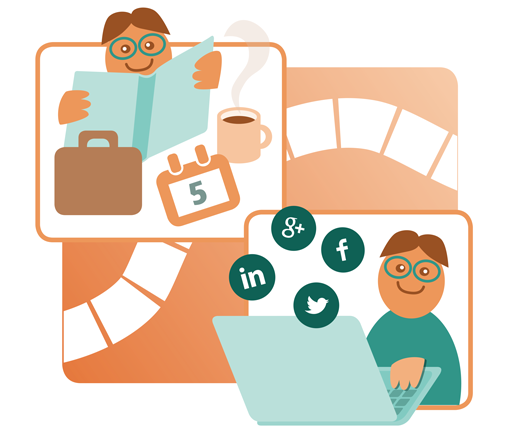 The future is here, and this is a new and changing aspect of how conferences can be so much more than just an inspiring couple of days and a few cold business cards.
Modern conference organizers are making it easy for us as the attendees by providing all the information we need to prepare ourselves for long lasting relationships. But many people are not engaging fully or are using the available tools in an immature way. It's not enough to simply connect, you need to reach out via social media and invite people to engage in the conversation you want.
Previously, we could prepare ourselves for a conference by finding out key information about the conference topics and the speakers. Now we have the opportunity to participate in a two-way engagement: We can become part of the conversation even before the event starts by listening via social media and engaging more fully in selected parts. In other words, we can set ourselves up for successful long-term business relationships.
One great example of an organizer who has made it easy for me and the other participants is The Global Peter Drucker Forum 2014 in Vienna, November 13-14 (#GPDF14). I have followed my normal event preparations, and I find myself connected to some of the contributing speakers already. I can't wait to see what the event will bring longer term.
If you are interested in topics around the #GPDF14 event "The Great Transformation", make sure to follow the buzz before, during and after the event via the links below!
The conference organizer:
https://twitter.com/druckereurope
Twitter list of speakers:
https://twitter.com/GDruckerForum/lists/gpdf14
Link to sign up for livestream:
http://www.druckerforum.org/2014/special-pages/registration-live-stream/
Katy Caroan
As an internationally recognized partner, Katy Caroan inspires you to pursue business opportunities in combining technology with leading edge strategies - The Professional Reputaton, based upon the responses from 13 colleagues and customers in June, 2013. Analyzed and presented by Per Frykman AB.